Live 5210 Play Box Program
A sister initiative of the Unplug & Connect campaign, the Play Box program was brought to Port Coquitlam and Port Moody in 2017 as a way to make outdoor physical activity easier for children and families. Live 5-2-1-0 began supporting communities to establish play boxes in 2014, where play boxes were added in Abbotsford and Chilliwack.
With the help of Scope BC's Live 5-2-1-0, Angelo Lam (MCM Coordinator) worked with the City of Port Coquitlam and the City of Port Moody to provide locations for 3 play boxes. Play boxes in the Tri-Cities were unveiled in 2017. Initially, our play boxes in the Tri-Cities were accessed by acquiring a code for a lock on the box to access sports equipment, sidewalk chalk and other toys for kids to play with. Play boxes are now lock-free.
To help maintain play boxes, the committees established an ambassador program where citizens signed up to monitor the play boxes. Play box equipment will vary for each play box, and, at times, will need equipment replenishment and maintenance.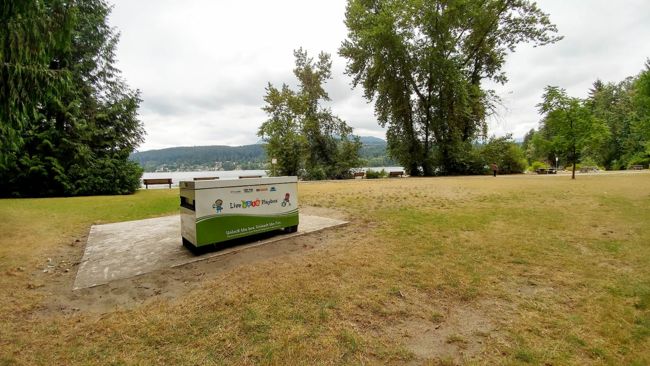 The Play Box located at Rocky Point
In The Media
Live 5-2-1-0 Play Boxes in the News: